I'm working on our birth announcements for Fisher, with a goal of finishing before he reaches 2 months of age. You would think that with him napping 6 times a day it would be easy to knock them out. Not so. I've looked at a ton of different designs and debated the expense. I love the one above and have a code for 20 free ones. After that they cost over a dollar each and I have to pay for shipping. Yikes. Is it silly to spend money on birth announcements? I can't decide. I may print a picture on our home printer instead, or use the code for 50 free prints from Shutterfly. Am I being too cheap? Jed thinks it is a total waste of money, so it comes down to my opinion vs. his. What are your thoughts? I would love to hear some ideas for cheap birth announcements as the sleep deprivation is stunting my creativity.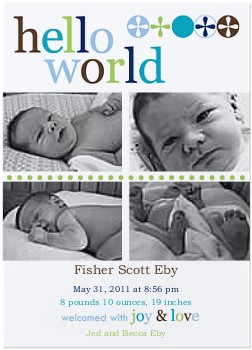 Hello Green Birth Announcement
Create beautiful birth announcements with
Shutterfly
.